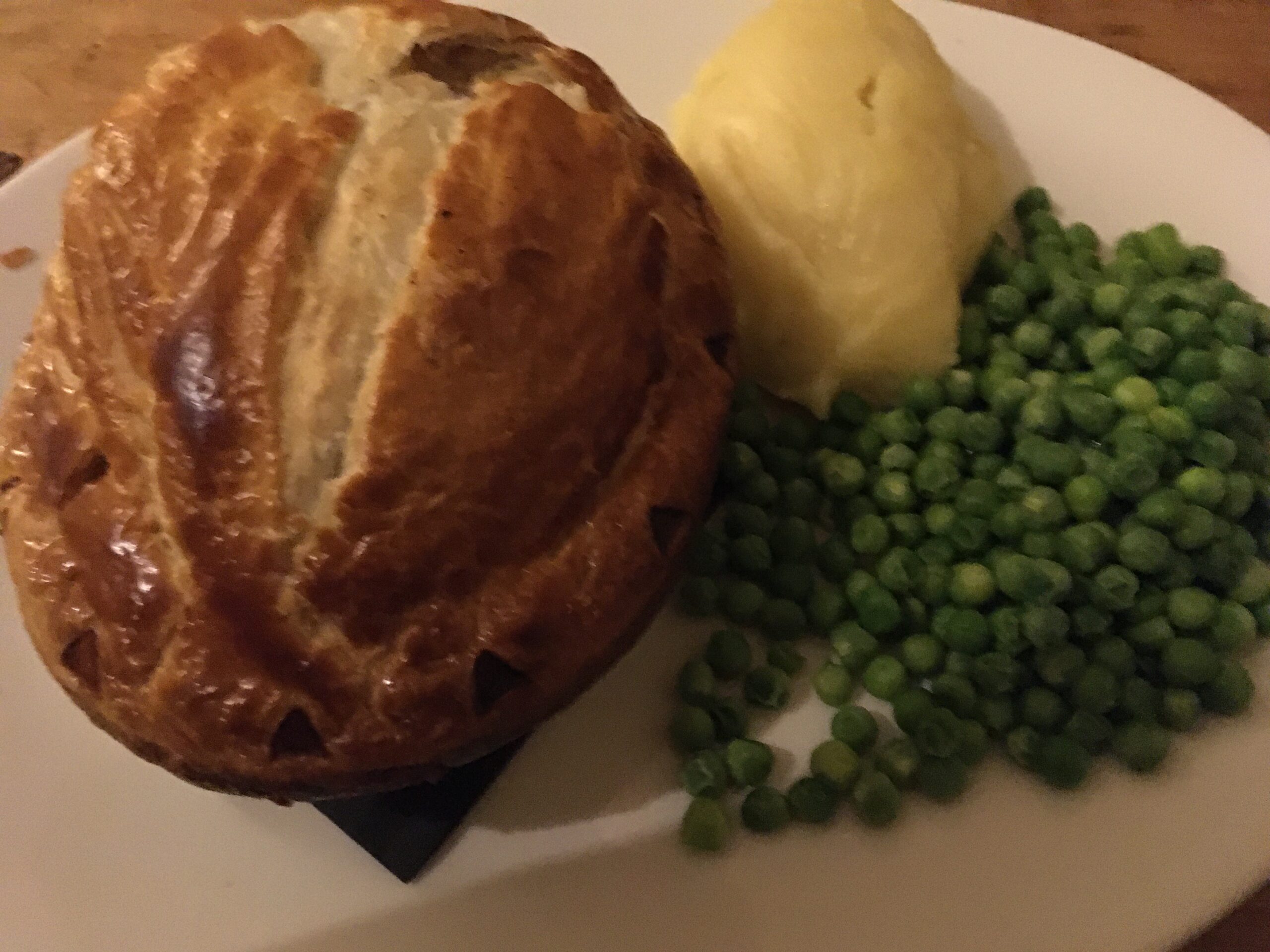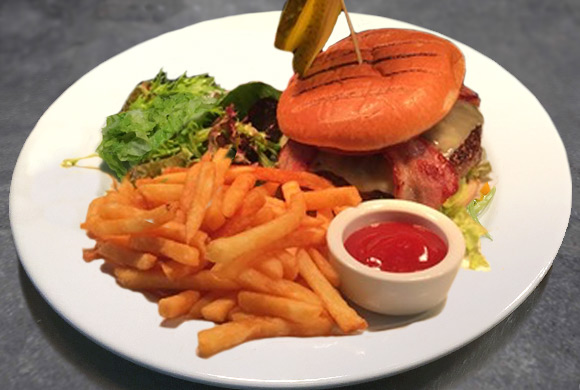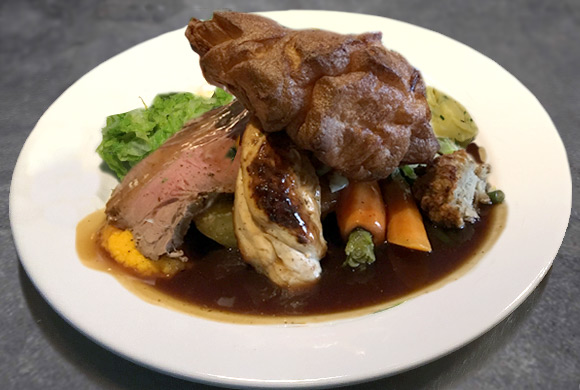 A traditional roast all year round
MENUS
Daily Specials Board
also available

CHEF'S HOMEMADE SOUP
with warm ciabatta bread
CRISPY STIR-FRIED BEEF STRIPS
sesame seeds with dark chilli sauce
CRISPY BREADED BRIE
with homemade chilli jam
CHILLI & GARLIC PRAWNS
with salad & ciabatta bread
GARLIC MUSHROOMS
with cream, white wine, herbs & warm bread
CRISPY TWICE COOKED BELLY PORK
with Hoisin sauce, sesame seed dressing & salad
8oz SUMBLER BUTCHER's SIRLOIN STEAK
with sauted mushrooms, peas, green beans, French fries & rocket leaves
Steak Extras
Brandy & pepper sauce
12oz GAMMON STEAK
Brace of eggs, peas & twice cooked chips
HOMEMADE  PIE
Fresh vegetables & mashed potato
8oz GRIDDLED BEEF BURGER
with smoked bacon, cheddar, toasted roll, French fries & tomato relish
BEER BATTERED FRESH HADDOCK FILLET
Crushed peas, twice cooked chips & fresh tartare sauce
COURGETTE & PARMESAN PANCAKE LAYERS
With a rich tomato coulis & fresh vegetables
WHOLE TAIL BREADED SCAMPI
Twice cooked chips, peas & tartare sauce
CHICKEN CURRY
or
BEEF & CASHEW NUT CURRY
or
ROAST VEGETABLE & LENTIL CURRY
All with rice, popadom & mango chutney
STICKY TOFFEE PUDDING
with toffee sauce & ice cream
DARK CHOCOLATE TART
with ice cream & Strawberries
MIXED BERRY & APPLE  CRUMBLE
with custard
PEAR & ALMOND FRAGIPAN TART
with ice cream
AFFOGATO
Espresso coffee with Irish cream ice cream
HOMEMADE  SOUP
with Rarebit
BACK BACON, MATURE CHEDDAR  & TOMATO CIABATTA
with fries
BACK BACON, BRIE  & CHILLI JAM CIABATTA
with fries
SLOW COOKED BEEF BRISKET & BRAISED ONION CIABATTA
with gravy & fries
WARM CHICKEN, TOMATO, LETTUCE & MAYO CIABATTA
with fries
BACK BACON LETTUCE & TOMATO CIABATTA
with fries
3 EGG OMELETTE WITH 3 FILLINGS
with fries
Choice of filling, mixed peppers, spring onion, cheddar cheese, mushroom, smoked bacon.
Sides:
Fries or Chips
Cheesy Chips or Fries
Chips with hot gravy
Whole Tail Whitby Scampi
Pork Sausages
Cornish Battered Haddock
Vegetarian option of the day
Choose from: peas, baked beans or salad & either mashed potato or fries
Vanilla ice cream
Smaller roasts available upon request

SUNDAY MENU
CHEf'S HOMEMADE SOUP
  with warm ciabatta bread
CRISPY BREADED BRIE
with homemade chilli jam
CHILLI & GARLIC PRAWNS
with salad & warm bread
GARLIC MUSHROOMS
with cream, white wine, herbs & warm bread
CRISPY TWICE COOKED BELLY PORK
with Hoisin sauce, sesame seed dressing & salad
GRILLED HALLOUMI CHEESE, WARM FIG & CHUTNEY SALAD
ROAST SIRLOIN OF BEEF
Yorkshire pudding & horseradish sauce, fresh vegetables & rich gravy
ROAST CHICKEN BREAST
Yorkshire pudding, sausage meat stuffing, fresh vegetables & rich gravy
ROAST LOIN OF PORK & CRACKLING
Yorkshire pudding, apple sauce, fresh vegetables & rich gravy
HAZELNUT, PECAN, BRAZIL NUT, WALNUT & ALMOND ROAST
Yorkshire pudding, shallot & rosemary gravy
ROAST VEGETABLE & LENTIL CURRY
With rice, popadum & mango chutney
FISH & CHIPS
Beer battered fresh haddock fillet, crushed peas, twice-cooked chips & tartare sauce
HONEY ROAST GAMMON
Yorkshire pudding, roast potatoes, fresh vegetables & creamed leek sauce
PAN FRIED SEA BASS FILLET
Saute new potatoes & fresh vegetables
STICKY TOFFEE PUDDING
sticky toffee sauce & vanilla ice cream
MIXED BERRY & APPLE  CRUMBLE
with custard
DARK CHOCOLATE TART
with strawberries & ice cream
AFFOGATO
Espresso coffee with Irish cream ice cream
PEAR & ALMOND FRAGIPAN TART
with ice cream
FIG & ALMOND TART
with ice cream


If you have a food or drink allergy or intolerance and would like to know about any allergenic ingredient in our food or products, please speak to a member of our staff before placing your order.
DRINKS

Henry's IPA
A beer with an ABV of 3.6% it's a light bronze ale with delicate malt aromas it is an easy drinking session ale with cereal notes and a lingering finish; just perfect.
Horizon
A perfect beer to be enjoyed all year round, although it is ideal for summer. Light in colour but full in flavour. Its tangy and refreshing with an ABV of 4.0%
Guinness
A dark Irish dry stout. Distinctively dark with a creamy head. Velvety finish. ABV of 4.1%
Henry's 6X
For many ale drinkers, 6X is the only option, so if you've never tried it, don't wait any longer. Full bodied and distinctive, it's a strong premium ale with an ABV of 4.1%
Horizon chilled
Although the same Horizon cask liquid, it is passed through a chiller so that it is served at 8 degrees (Horizon served at 12 degrees).
Draught
Fosters 4.0%
Birra Moretti 4.8%
Kronenburg 1664 5.0%
330ml Bottles
Becks Blue 0%
Budweiser 4.5%
Peroni 5.0%
Draught
Stowford Press 4.5%
Strongbow Dark Fruits 4.5%
Thatchers Gold 4.8%
Bottles 500ml
Old Mout Berries and cherries 4.0%
Old Mout Kiwi & Lime 4.0%
Old Mout Pineapple & Raspberry 4.0%
Westons Wyld wood 5.0%