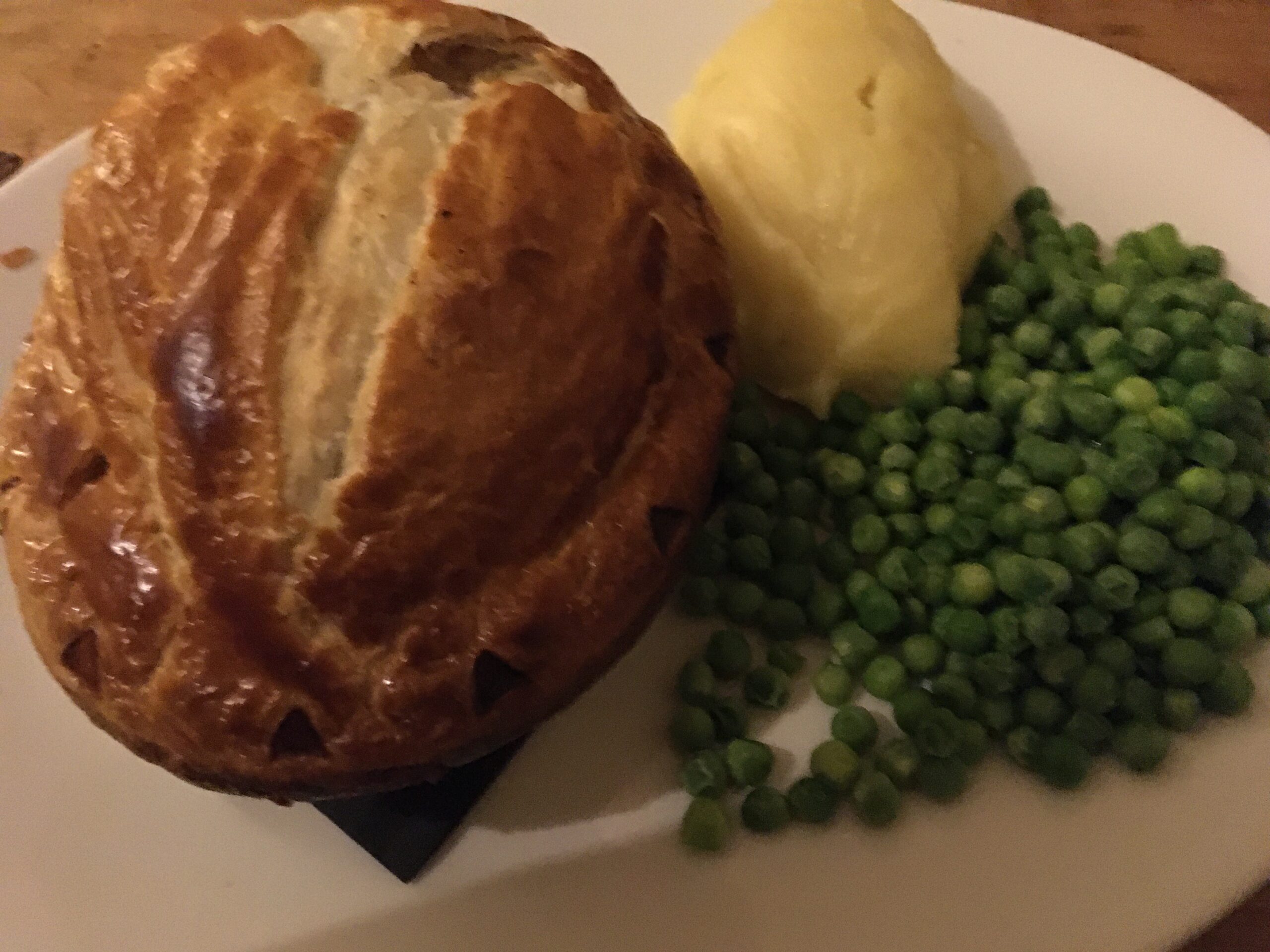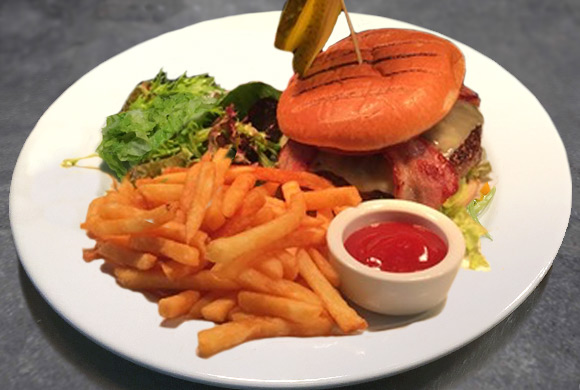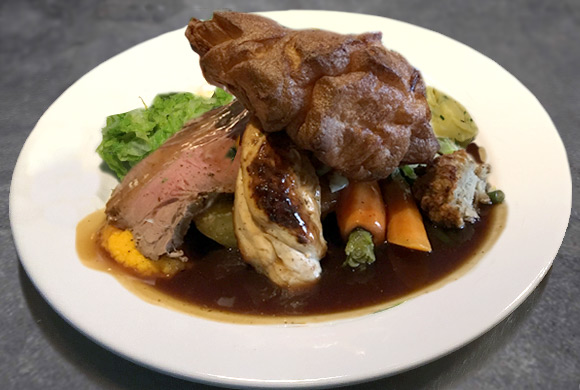 A traditional roast all year round
MENUS
Daily Specials Board
also available

CHEF'S HOMEMADE SOUP
with warm ciabatta bread
CRISPY STIR-FRIED BEEF STRIPS
sesame seeds with dark chilli sauce
CRISPY BREADED BRIE
with homemade chilli jam
CHILLI & GARLIC PRAWNS
with salad & ciabatta bread
GARLIC MUSHROOMS
with cream, white wine, herbs & warm bread
CRISPY TWICE COOKED BELLY PORK
with Hoisin sauce, sesame seed dressing & salad
8oz SUMBLER BUTCHER's SIRLOIN STEAK
with sauted mushrooms, peas, green beans, French fries & rocket leaves
Steak Extras
Brandy & pepper sauce
12oz GAMMON STEAK
Brace of eggs, peas & twice cooked chips
HOMEMADE  PIE
Fresh vegetables & mashed potato
8oz GRIDDLED BEEF BURGER
with smoked bacon, cheddar, toasted roll, French fries & tomato relish
BEER BATTERED FRESH HADDOCK FILLET
Crushed peas, twice cooked chips & fresh tartare sauce
COURGETTE & PARMESAN PANCAKE LAYERS
With a rich tomato coulis & fresh vegetables
WHOLE TAIL BREADED SCAMPI
Twice cooked chips, peas & tartare sauce
ROAST VEGETABLE & LENTIL CURRY
 with rice, popadom & mango chutney
STICKY TOFFEE PUDDING
with toffee sauce & ice cream
MIXED BERRY & APPLE  CRUMBLE
with custard
LEMON MERINGUE TART
with fresh raspberries
WHITE CHOCOLATE BLONDIE
with white chocolate ice cream
PISTACHIO NUT BROWNIE
with ice cream
HOMEMADE  SOUP
with Rarebit
BACK BACON, MATURE CHEDDAR  & TOMATO CIABATTA
with fries
BACK BACON, BRIE  & CHILLI JAM CIABATTA
with fries
SLOW COOKED BEEF BRISKET & BRAISED ONION CIABATTA
with gravy & fries
WARM CHICKEN, TOMATO, LETTUCE & MAYO CIABATTA
with fries
BACK BACON LETTUCE & TOMATO CIABATTA
with fries
3 EGG OMELETTE WITH 3 FILLINGS
with fries
Choice of filling, mixed peppers, spring onion, cheddar cheese, mushroom, smoked bacon.
Sides:
Fries or Chips
Cheesy Chips or Fries
Chips with hot gravy
Whole Tail Whitby Scampi
Pork Sausages
Cornish Battered Haddock
Vegetarian option of the day
Choose from: peas, baked beans or salad & either mashed potato or fries
Vanilla ice cream
Smaller roasts available upon request

SUNDAY MENU
CHEf'S HOMEMADE SOUP
  with warm ciabatta bread
CRISPY BREADED BRIE
with homemade chilli jam
GARLIC MUSHROOMS
with cream, white wine, herbs & warm bread
CRISPY TWICE COOKED BELLY PORK
with Hoisin sauce, sesame seed dressing & salad
GRILLED HALLOUMI CHEESE, WARM FIG & CHUTNEY SALAD
CHILLI & GARLIC PRAWNS
With peppers, spring onions, salad & bread
ROAST SIRLOIN OF BEEF
Yorkshire pudding & horseradish sauce, fresh vegetables & rich gravy
ROSEMARY & GARLIC LEG OF LAMB
Yorkshire pudding & mint sauce, fresh vegetables & rich gravy
HAZELNUT, PECAN, BRAZIL NUT, WALNUT & ALMOND ROAST
Yorkshire pudding, shallot & rosemary gravy
ROAST  TURKEY CROWN
butcher's chipolata, roast chestnut & sausage meat stuffing, Yorkshire pudding, redcurrant jelly & rich jus, fresh vegetables
FISH & CHIPS
Beer battered fresh haddock fillet, crushed peas, twice-cooked chips & tartare sauce
COURGETTE & PARMESAN LAYERED PANCAKE
with a rich tomato coulis & fresh vegetables
POACHED SMOKED HADDOCK
Tarragon mashed potato with a poached egg & fresh vegetables. White wine & chive cream sauce
STICKY TOFFEE PUDDING
sticky toffee sauce & vanilla ice cream
MIXED BERRY & APPLE  CRUMBLE
with custard
LEMON MERINGUE TART
with fresh raspberries
WHITE CHOCOLATE BLONDIE
with white chocolate ice cream
PISTACHIO NUT BROWNIE
with ice cream


If you have a food or drink allergy or intolerance and would like to know about any allergenic ingredient in our food or products, please speak to a member of our staff before placing your order.
DRINKS

Henry's IPA
A beer with an ABV of 3.6% it's a light bronze ale with delicate malt aromas it is an easy drinking session ale with cereal notes and a lingering finish; just perfect.
Horizon
A perfect beer to be enjoyed all year round, although it is ideal for summer. Light in colour but full in flavour. Its tangy and refreshing with an ABV of 4.0%
Guinness
A dark Irish dry stout. Distinctively dark with a creamy head. Velvety finish. ABV of 4.1%
Henry's 6X
For many ale drinkers, 6X is the only option, so if you've never tried it, don't wait any longer. Full bodied and distinctive, it's a strong premium ale with an ABV of 4.1%
Horizon chilled
Although the same Horizon cask liquid, it is passed through a chiller so that it is served at 8 degrees (Horizon served at 12 degrees).
Draught
Fosters 4.0%
Birra Moretti 4.8%
Kronenburg 1664 5.0%
330ml Bottles
Becks Blue 0%
Budweiser 4.5%
Peroni 5.0%
Draught
Stowford Press 4.5%
Strongbow Dark Fruits 4.5%
Thatchers Gold 4.8%
Bottles 500ml
Old Mout Berries and cherries 4.0%
Old Mout Kiwi & Lime 4.0%
Old Mout Pineapple & Raspberry 4.0%
Westons Wyld wood 5.0%